Letter to Superior IT Solutions Clients
For more than 30 years, Superior has been delivering IT services to businesses in the city of London and surrounding region and we are proud of this history. Recently though, management of Superior made the difficult decision that the energy and effort required to continue to provide quality IT services in this rapid changing market was something more than they wanted to devote. As a result, we are extremely pleased to announce, effective immediately, a working relationship with Stronghold Services has been established to transition our client base to. This was done to ensure that as Superior exited the market, our valued clients would have the same reliable, quality IT service to which they have been accustomed.
Stronghold Services, located in London, has been providing excellent IT solutions almost as long as Superior and currently has a team of 25 highly motivated and engaged staff. We have arranged with Stronghold to continue servicing you with the same billing rates and competitive hardware pricing that Superior has been providing. We have met with the ownership of Stronghold Services, their Service Manager and Senior Technician to ensure the transition of your IT needs will be fully met and they are excited about the opportunity.
We would like the transition to take place as soon as possible but also understand, in some cases, you may not have a need for IT services until sometime in the future. We have provided contact information below for Stronghold Services so you have a number and contact to call when needed. In the meantime, you may be contacted by someone at Stronghold Services to discuss options for ongoing services. We have evaluated Stronghold's approach to delivering IT services and, while different from our own, believe it to be the future of IT support. We would also encourage you as well to review Stronghold Services website at www.strongholdservices.ca.
Thank you for your years of patronage of Superior Computers.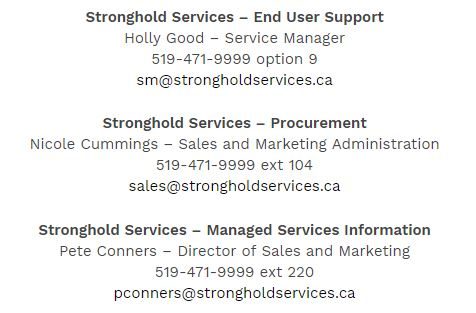 ---
These clients love working with Stronghold Services
And we're sure you will too